These educational videos have been produced In association with The  Community Foundation of Ireland, SECAD, WildWork and Ballincollig Tidy Towns as part of our Biodiversity Action Plan.
SWEET TALKING
Beekeeper Shane Lehane created quite a buzz with his lecture entitled 'Bees Are More Than Honey'. This took place in the Regional Park Ballincollig as part of Heritage Week 2021. His talk on bees was both informative and interesting and was enjoyed by a great number of people who attended.
If you missed out on this or if you would like to hear it again, press the following link      https://vimeo.com/591256293
The link is also posted on our Website's Biodiversity Page.
October Pollinator Plan Newsletter
1. To do this month: Submit your data for 2019

If you have taken part in any of our pollinator recording schemes e.g., Bumblebee Monitoring Scheme, Solitary Bee Monitoring scheme or the Flower-Insect Timed Count, now is the perfect time to make sure you safely submit the data to us 
https://pollinators.ie/record-pollinators/

 

2. To spot this month: Keep an eye out for the Ivy Bee

The Ivy Bee has never been spotted in Ireland, but it is now common in Britain and seems likely to arrive on our shores very soon. It's a solitary bee with an autumn flight period, to match the flowering of its favourite plant – Ivy. In Britain it can be found from early September until early November. It nests in south facing banks of light soil, you might even be lucky enough to have it set up home in your garden!
It should be fairly easy to recognise – it's quite large and has very distinctive bands of white on the abdomen. To make it a little easier, most of our solitary bees have completed their life cycles for this year, but there will still be hoverflies and honeybees on the wing. If you think you've spotted this bee please try to take a photograph and email it to me for validation.
http://pollinators.ie/record-pollinators/watch-for-new-arrivals/ 

3. Congratulations to Buncrana (pictured) and Geashill, Irelands most pollinator-friendly large and small town for 2019Buncrana won the national large town Pollinator Award at the Tidy Towns 2019 awards, recognising all that has been done by the town to help pollinating insects. Geashill continues to excel in this competition and this year proudly took the top award for most pollinator-friendly small town in Ireland. Congratulations to both and to the other regional winners: Dunboyne, Ennis, Kilkenny, Sneem, Tullahought and Belmullet. Over 160 pollinator-friendly towns and villages, from every county in Ireland, have entered the Local Authority Pollinator Award since 2016.
https://pollinators.ie/tidy-towns-gone-pollinator-friendly-in-2019/ 

4. Important new guideline just published: Pollinator-friendly management of Transport CorridorsWorking with partners, Transport Infrastructure Ireland, Iarnród Éireann, Translink and the Department of Infrastructure Northern Ireland, the All-Ireland Pollinator Plan has published guidelines on how transport corridors can be managed in a pollinator-friendly way. These new guidelines detail 21 different actions transport managers can take to help pollinators. You can read more and download the guidelines here: https://pollinators.ie/transportcorridors/ 
NEWSLETTER: SEPTEMBER 2019

2. To spot this month: Keep an eye out for leafcutter solitary bees

They are coming to the end of their season, but one of the most interesting solitary bees to spot are the leafcutter solitary bees (Megachile). They cut sections of leaf or petal and bring it back to line the cells in their nest. These are the solitary bees that most often use bee boxes. You'll know your box is occupied if you see a little circular piece of leaf closing the cavities.


3. Thanks to the amazing efforts of Tidy Towns groups in making their local communities pollinator friendly!


We have been blown away by the quality of the Tidy Towns entries in the 2019 special pollinator award. Good luck to everyone who entered this year – winners will be announced on the 30th September at the Tidy Towns awards ceremony in the Helix. The map shows all those Tidy Towns groups in the RoI who have made their area pollinator-friendly since 2016!


4. Councils continue to sign up as partners of the AIPP


To date, 12 Councils across the island have signed up as partners of the AIPP and agreed to take action. We know that for others the process is in train. If your Council is not yet taking part, it would be very useful if you could encourage them to do so. It is also very helpful to contact Local Authorities and show your support when you see them taking positive actions like reducing mowing or pollinator-friendly planting. Often they only hear from the people who don't like it! See our current Council partners here: https://pollinators.ie/councils/

5. Helping our most threatened bumblebee

The next in our How-to-guide series is on protecting rare pollinators and identifies actions to help the endangered Great Yellow Bumblebee. Unfortunately, this bumblebee is on the verge of extinction, with the Mullet Peninsula in Mayo now it's most important remaining location. The guideline document will be officially launched in early October at an event organised by Mayo County Council. You'll be able to download it from www.pollinators.ie then.
Dragonfly Dash & Butterfly Bash
National Heritage Week Recording Challenges
National Heritage Week
runs from tomorrow Saturday 17th to Sunday 25h of August, a celebration of Ireland's rich natural and cultural heritage. To support National Heritage Week, celebrate Ireland's natural heritage, and contribute to the Butterfly Atlas 2021 & Dragonfly Ireland Atlas 2024, we're running both a
Butterfly Bash
and
Dragonfly Dash
challenge to encourage everyone to get out and record wildlife over the course of the week.
Brimstone. Post-hibernation adults can be seen flying from March to June, with their offspring being on wing from July to November. Image credit: Liam Lysaght
Common Darter. Common all throughout Ireland, only absent from upland areas.Can be seeing flying from June to October (occasionally May and/or November). Image credit: Eamonn Brennan
Over the course of National Heritage Week (17-25 August) we are encouraging everyone to visit 10 km squares that are blue or green to help fill gaps for Butterfly Atlas 21.
Filling the gaps for Butterflies
Following on from our success in filling in the gaps for the Butterfly Atlas 2021last year, we're running with a more targeted approach this year again. Given the fantastic support we've received to date for the Atlas there are certainly fewer gaps than last year, but if you're out and about over Heritage Week please take a look at the map on our Butterfly Bash page to see where your butterfly recording will have the most impact and keep track of what butterflies are being recorded too!
Dragonfly recorder survey
Casual records are the bread and butter of most of our recording challenges. But if you are able to offer a bit more experience in identifying Dragonflies and Damselflies, why not try completing our Dragonfly recorder survey – much the same as casually recording the presence of particular species except with the added dimension of estimating numbers and doing a very quick and simple habitat assessment. All data gathered during site surveys also counts towards our Dragonfly Dash!
Identification swatch giveaway
We're feeling generous at the Data Centre for National Heritage Week! For some of our lucky followers on Facebook and Twitter, you might be in with a chance to win yourself a Butterfly or Dragonfly swatch – head to our respective social media profiles to find out more!
The
Bumblebee Monitoring Scheme
supports and coordinates a network of citizen scientists across the island of Ireland. In collaboration with the
Bumblebee Conservation Trust
in Northern Ireland, the scheme now records greater than 13,000 bumblebees from over 100 sites each year.
If you are interested in becoming part of the community of Bumblebee Monitoring recorders and want to find out more about about the scheme, click on the image above for a short 10-minute clip and a perfect introduction!
New recording scheme launched!
Citizen scientists have been called upon to help the National Biodiversity Data Centre track Ireland's dragonflies and damselflies and more volunteers are needed.
Flower Insect Timed (FIT) Count
Help us track changes in our insect communities. Recorders are needed and anyone can get involved, even from the comfort of your own home!
Ireland's Citizen Science Portal
Enjoy instant visibility of Ireland's biological recording activity in Ireland and visit our portal if you want to find out more about Ireland's wildlife, or to submit your own records of Ireland's biodiversity.
Biodiversity Maps
Explore over 4.2 million species occurrence records with Biodiversity Maps; find out what biodiversity occurs in your locality; interrogate the latest dataset uploads and download your very own species distribution maps.
1. To do this month: Make sure your garden still has plants in flower for pollinators

From late summer into autumn it is very important that pollinators still have a source of food. Many will need to fatten up before going into hibernation in the autumn. Garden plants like Lavender, Aster (photo) and Rudbeckia are great sources of pollen and nectar.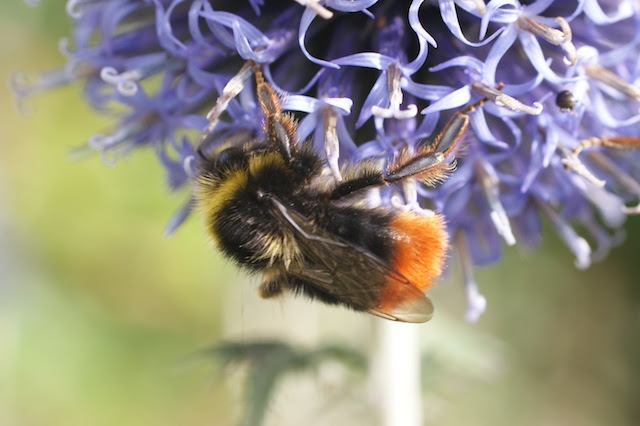 2. To spot this month: keep an eye out for bumblebee males
There are lots of bumblebee males in flight at the minute. Males only fly for a short time each year. Once they emerge, they aren't allowed to live in the nest and instead have to fend for themselves. You might see them first thing in the morning hanging onto flowers (like Lavender) where they've spent the night. See our guide for how to identify common bumblebee males in Ireland: https://www.pollinators.ie/wordpress/wp-content/uploads/2018/08/CommonBBmales_v1_lowres.pdf
3. Number of business supporters of the All-Ireland Pollinator Plan continues to increase

We have had a lot of support from the business sector, with the number of companies agreeing to support the Plan and take action now exceeding 170, including Glanbia Ireland (photographed). We have decided to release regular short case studies outlining what different businesses are doing to help and are delighted that the first one profiled is Gannon Homes: https://pollinators.ie/wp-content/uploads/2019/08/Gannon-Homes-business-case-study-August-2019.pdf
4. Congratulations to Malahide Demesne and Talbot Botanical Gardens, winners of the Green Flag for Parks Pollinator award in 2019

Malahide Demesne and Talbot Botanical Gardens, is managed by Fingal County Council. They have invested a lot of work in making the grounds more pollinator-friendly in recent years, including protecting 37 acres of wildflower meadows, extensive native hedgerows, planting 45,000 pollinator-friendly bulbs; and elimination of pesticide use.

Category awards were also given to Tymon Park, South Dublin County Council for the Best Town Park; the Victorian Walled Kitchen Garden in Phoenix Park for Best Walled Garden; and a new Community Garden award went to Headford Community Orchard.
The Pollinator Award is jointly run with An Taisce Environmental Education to support the All-Ireland Pollinator Plan, and is kindly sponsored by Young's Nurseries.
5. 'Actions for Pollinators' mapping system reaches a milestone as 1,000 sites log their actions for pollinators!
'Actions for Pollinators' is an online mapping system where you can tell us what action you have taken to help. To see what's happened near you, or to log your own site please visit: https://pollinators.biodiversityireland.ie/

Our forward planning, choosing and planting of the correct pollinator plants this year is really paying dividends. A lovely selection of butterflies have been seen over the summer and bees are very plentiful.
In the last number of weeks we have been advised that about 8 swarms of bees had arrived in Ballincollig and had to be relocated. In all the years we have never heard of this number of swarms.
Well done to everyone who took the time to add to the Pollinator Corridor and/or chose the appropriate plants for their garden. It has made a huge difference.
1. To do this month: Allow some wildflowers to naturally grow in your lawn to provide food for pollinators

If you don't cut the grass so often, plants like Dandelion, Clovers, Vetches, Self-heal, Dog Daisy and Bird's-foot-trefoil will get a chance to flower. These are all fantastic sources of pollen and nectar for our bees and other insects. You can allow the whole lawn to flower, just have a patch or even cut summer swirls like this garden in County Offaly.
2. To spot this month: keep an eye out for the Common carder bumblebee (Bombus pascuorum)
Keep an eye out for this distinctive bumblebee. The top of the thorax is entirely covered in ginger hairs and it has some black hairs on the abdomen. You can find it in most habitats including gardens and parks. If you spot it please submit a record:
https://records.biodiversityireland.ie/record/bumblebees
3. We've released a new guideline document!

This one explains simple actions that can be taken on golf courses to make them more pollinator-friendly. We were delighted to collaborate with the Golf Course Superintendents Association of Ireland in developing this document. With over 300 clubs across the island, the impact golf courses could have is huge. If you've involved in a local club, please help by letting them know about these new guidelines https://pollinators.ie/new-guidelines-on-how-to-make-golf-courses-pollinator-friendly/
5. All-Ireland Bumblebee Monitoring Scheme
The Bumblebee Monitoring Scheme was established in 2011. It's a citizen science scheme run by the National Biodiversity Data Centre where volunteers agree to walk a fixed 1-2km route once a month and record how many bumblebees they see. New volunteers are always welcome! If you'd like to learn more about what is involved, you can watch this excellent video: https://www.youtube.com/watch?v=ExCO4yM-bkg
We work closely with senior members of Ballincollig Scout Group and one of the projects one group did was to build a Bug Hotel. They built it from scratch. The Bug Hotel is designed to provide shelter for insects. and providing nesting facilities particularly during winter.We also welcome the pollinators who have lots of areas to shelter. Thankfully we are nearly at full capacity and the bugs are fascinating to watch..
A second group of scouts wanted to do something different so they got two barrels and painted them and gave us both Male and Female Floral Displays. The two barrels are positioned on either side of the Bug Hotel and the plants attract the bees to the area.

1. To do this month: Help us
To better monitor our pollinators into the future, we have launched a new scheme called Flower-Insect Timed Count (FIT Count). We are asking volunteers to watch a 50cm x 50cm patch of flowers for 10 minutes and record how many insects visit. You just need to count the insects by type e.g. bumblebee, beetle etc. We are very grateful to anyone who can help by taking part in their garden, park, school, farm etc.
2. To spot this month: keep an eye out for the Red-tailed bumblebee
Keep an eye out for this very distinctive bumblebee. Females are jet black with a red tail and black hairs on their hind leg. You can find it in most habitats including gardens and parks. If you spot it please submit a record:
https://records.biodiversityireland.ie/record/bumblebees
3. Join us this weekend at Burren in Bloom (7-9th June)

Burren in Bloom is an amazing festival that happens across the Burren each June. This year we are delighted to collaborate with the festival which will have a special focus on pollinators. There are lots of walks, talks and events over the three days – most free to attend. Hope to see some of you there!
https://www.burreninbloom.com/
4. Councils supporting the All-Ireland Pollinator Plan
We were delighted to be at the launch of the Fingal County Council Bee Postive garden at Bloom in the Phoenix Park last week (photograph above). To date, 10 Councils across the island have formally signed up as partners of the All-Ireland Pollinator Plan, With almost a quarter on board already, we hope that more Councils will follow over the coming months https://pollinators.ie/councils/
BIODIVERSITY CRISIS
IS ABOUT TO PUT HUMANITY AT RISK UN SCIENTISTS TO WARN
'We are in trouble if we don't act,' say experts, with up to 1m species at risk of annihilation.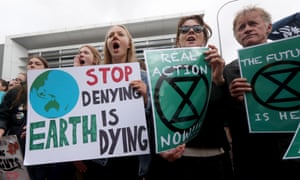 The world's leading scientists will warn the planet's life-support systems are approaching a danger zone for humanity when they release the results of the most comprehensive study of life on Earth ever undertaken.
Up to 1m species are at risk of annihilation, many within decades, according to a leaked draft of the global assessment report, which has been compiled over three years by the UN's leading research body on nature.
The 1,800-page study will show people living today, as well as wildlife and future generations, are at risk unless urgent action is taken to reverse the loss of plants, insects and other creatures on which humanity depends for food, pollination, clean water and a stable climate.
The final wording of the summary for policymakers is being finalised in Paris by a gathering of experts and government representatives before the launch on Monday, but the overall message is already clear, according to Robert Watson, the chair of the Intergovernmental Science-Policy Platform on Biodiversity and Ecosystem Services (IPBES).
"There is no question we are losing biodiversity at a truly unsustainable rate that will affect human wellbeing both for current and future generations," he said. "We are in trouble if we don't act, but there are a range of actions that can be taken to protect nature and meet human goals for health and development."
The authors hope the first global assessment of biodiversity in almost 15 years will push the nature crisis into the global spotlight in the same way climate breakdown has surged up the political agenda since the 1.5C reportlast year by the UN Intergovernmental Panel on Climate Change.
Like its predecessor, the report is a compilation of reams of academic studies, in this case on subjects ranging from ocean plankton and subterranean bacteria to honey bees and Amazonian botany. Following previous findings on the decimation of wildlife, the overview of the state of the world's nature is expected to provide evidence that the world is facing a sixth wave of extinction. Unlike the past five, this one is human-driven.
Mike Barrett, WWF's executive director of conservation and science, said: "All of our ecosystems are in trouble. This is the most comprehensive report on the state of the environment. It irrefutably confirms that nature is in steep decline."
Barrett said this posed an environmental emergency for humanity, which is threatened by a triple challenge of climate, nature and food production. "There is no time to despair," he said. "We should be hopeful that we have a window of opportunity to do something about it over these two years."
That is when China will host the UN framework convention on biodiversity gathering in Kunming, which will establish new 20-year targets to replace those agreed in Aichi, Japan, in 2010. Soon after, the UN framework convention on climate change will revise Paris agreement commitments at a meeting in either the UK, Italy, Belgium or Turkey.
Watson, a British professor who has headed both of the UN's leading scientific panels, said the forthcoming report will delve more deeply than anything before into the causes of nature collapse, chief among which is the conversion of forests, wetlands and other wild landscapes into ploughed fields, dam reservoirs and concrete cities. Three-quarters of the world's land surface has been severely altered, according to the leaked draft. Humanity is also decimating the living systems on which we depend by emitting carbon dioxide and spreading invasive species.
Watson said the authors have learned from attribution science, which has transformed the debate on the climate crisis by showing how much more likely hurricanes, droughts and floods have become as a result of global heating.
The goal is to persuade an audience beyond the usual green NGOs and government departments. "We need to appeal not just to environment ministers, but to those in charge of agriculture, transport and energy because they are the ones responsible for the drivers of biodiversity loss," he said.
A focus will be to move away from protection of individual species and areas, and to look at systemic drivers of change, including consumption and trade.
The political environment is changing in some countries due to overwhelming scientific evidence and increasing public concern about the twin crises of nature and climate, which have prompted more than 1 million students to strike from school and led to street protests by Extinction Rebellion activists in more than a dozen countries.
The UK parliament declared a climate emergency this week and the government's chief climate advisory body recommended an accelerated plan to cut carbon emissions to zero by 2050. Until now, however, the nature crisis has been treated as far less of a priority. "Where are the headlines? Where are the emergency meetings?" asked the school strike founder, Greta Thunberg, in a recent tweet on the subject.
Extinction Rebellion activists said protests that blocked several London streets last month were as much aimed at the defence of nature as stabilising the climate. "They are two sides of the same destructive coin," said Farhana Yamin, a coordinator of the movement who is also an environmental lawyer and formerly a lead author of the IPCC report.
"The work of IPBES is as crucial as the work done by the IPCC on the 1.5-degree report. That is why Extinction Rebellion is demanding an end [to] biodiversity loss and a net-zero phaseout by 2025. We can't save humanity by only tackling climate change or only caring about biodiversity."
How can Local Communities help Pollinators?
Local communities can lead the way in creating an Ireland where pollinators can thrive. To find out how to make your community pollinator friendly, download our publication: Local Communities: actions to help pollinators

Suitable for: TIDY TOWNS, Keep Northern Ireland beautiful, local wildlife groups, historic graveyard groups, college campuses, etc.
Features of our Local Community Guidelines:
Range of 24 low/no-cost pollinator-friendly actions provided to suit all local communities
Pollinator-friendly planting lists
Important advice for purchasing wildflower seed mixes for pollinators
Information about our pollinators, why they are declining and what they need to survive

Have you taken any pollinator friendly actions in your local community? If so, log them on our online mapping system, Actions for Pollinators, to help track the build-up of food and shelter in our landscape.
Instructions on how to use this mapping system: Tutorial on Actions for Pollinators: Community groups
How Councils can support the Pollinator Plan
Councils can play a leading role in making the island of Ireland a place where pollinators can survive and thrive. To help, we've produced these guidelines: Councils: actions to help pollinators
We understand that each Council is different, so there are a range of 30 pollinator-friendly actions to choose from. There are instructions for each action, suggestions for where it might be applied, what staff could assist, and a pollinator-friendly planting code.
Suitable for: ROI: County and City Council staff. NI: Borough, District and City Councils.
TidyTowns Pollinator Award
The Local Authority TidyTowns Pollinator Award
In 2016, when the Local Authority Heritage Officer and Biodiversity Officer Network offered to establish and fund the special Pollinator Award in the national Tidy Towns competition, the team behind the All-Ireland Pollinator Plan were delighted to support this new way to create awareness of pollinators and increase pollinator-friendly habitats right across the country.
There has been an amazing reaction to this special award and reading about all the achievements and actions taken for pollinators in towns and villages across the country is truly inspirational.
A total of 140 towns and villages have entered the Pollinator Award competition since 2016, comprising wonderful projects, each improving and creating much-needed habitats for biodiversity and pollinating insects.
Since then, the entries have improved year on year. We would like to thank you sincerely for all you are doing locally to help create a more pollinator-friendly Ireland, and wish you every success in 2019!
– the Pollinator Plan team
To learn more about some of the wonderful work being carried out by TidyTowns groups around the country, please see our newsletter from the 2018 competition: TidyTowns Local Authority Pollinator Award 2018 newsletter
To learn about entries and winners in the past three years of the award, please click on the appropriate tab to the left of this page: 2016, 2017, 2018.
Download our top 10 tips on how to improve your entry for the Pollinator award: Tips on entering Tidy Towns Pollinator Award
Local Authority Pollinator Award Prize Fund: €9000
Overall Winner €1000
Regional Winner Small Town/Village: 4 winners receive €1000 each.
Regional Winner Large Town/Urban centre: 4 winners receive €1000 each.
France Becomes The First Country To Ban All Five Pesticides Linked To Bee Deaths
In May 2018 the EU banned three of the significant pesticides implicated in the collapse of bee populations. Clothianidin, imidacloprid and thiamethoxam are now prohibited for use on crops.
However France has gone a step further and set the high bar in the effort to save the bees. Given the importance of pollinators to nature and the survival of the biosphere, this could not happen too soon!
Studies have reported that the neonicotinoid pesticides attack the central nervous system of insects, leading to loss of memory and homing skills, in addition to reduced fertility. Bees that cannot find their way back to the hive quickly die. However the pesticides have also been shown to affect butterflies, birds and other pollinating insects.
There is a reason why France is ahead of the field in this regard: The "bee killing" pesticides were tested first on French fields in the 1990's – and the French farmers witnessed first-hand the catastrophic effects that occurred in 1994; describing "a carpet of dead bees". 400,000 bee colonies died within days – yet the story was buried under a layer of corruption and distorted science.
Since that time, activists and manufacturers have battled to control the situation. We covered this story in full in a previous post: Overwhelming Evidence Linking Neonicotinoid Insecticides To Massive Die-off Of Bees And Songbirds
The new move is certain to be celebrated by ecologists and sets an example of protection of nature that the rest of the world needs to follow.
1. To do this month: Let Dandelions flower
Dandelions are a vital food source of pollen and nectar for bees and other insects when they emerge from hibernation. Let them flower if you can. This is the Grey Mining bee collecting pollen.
2. To spot this month: keep an eye out for the Tawny Mining bee
Extinct for 87 years in Ireland – before it reappeared in 2012 in counties Wicklow and Kilkenny. On 28th March 2019 it was spotted for the first time in Dublin City! Can you help find new populations?
pollinators.ie/record-pollinators/help-find-the-tawny-mining-bee/
3. Councils are formalising their support

A new 2019 Framework allows Local Authorities to become AIPP partners. In doing so they agree to support the Plan ethos and take dedicated actions. So far these Councils have followed Kilkenny's lead (photo) and signed up: Dublin City; Dún Laoghaoire Rathdown; Fingal; Limerick; Lisburn & Castlereagh.
pollinators.ie/councils/
5. Number of business supporters reaches 115

AIPP business supporters agree to take one pollinator-friendly action in the first year and another two by 2020. We are only 5 away from doubling our original target of 60 business supporters by 2020! Photo shows a native meadow at O'Donnell Furniture Makers.